'New

Volkswagen

' Unveiled in the Middle East in Style 
'New

Volkswagen

' Unveiled in the Middle East in Style 
Volkswagen

Middle East partners with renowned artist Maddy Butcher to unveil its new brand design across the region.

New logo shines out for the first time across

Volkswagen

Middle East showrooms and digital channels

The new brand symbolizes a new era for

Volkswagen

 
United Arab Emirates - 24 June 2020 
Volkswagen Middle East reveals its new brand design and logo to the region, through the creation of a piece of artwork which encapsulates the new attitude of the brand. This comes as part of Volkswagen's brand realignment globally, one of the world's largest rebranding campaigns in the industry.
To unveil the 'New Volkswagen' in this region, Volkswagen Middle East partnered with long-term-UAE-based artist Maddy Butcher to create an artistic take on the new Volkswagen era – introducing it to the region in a powerful, contemporary and creative way. Inspired by the automotive brand's forward-thinking attitude, the artist has produced an energetic mural entitled "Kinetic", which combines the vibrant new brand palette and tone with some of the most recognizable features of its vehicles, such as the honeycomb grill, wheels and the new logo. The artist fused these features with patterns and shapes inspired by traditional characteristics of local architecture found across the region, which help to root the artwork.
Talking about this partnership, Maddy Butcher commented; "This piece is about ambition, intelligence and future-focus. Volkswagen's identity has evolved into an idea that reaches further than the lifespan of a car. As 'the people's car,' it's about putting people first. Anyone can learn how to put their hands on the wheel and turn the ignition. Driving is about controlling processes with your hands and mind, and so is making art. For me this piece is not flat or still, but restless, celebratory, positive, playful and full of momentum, just like the 'New Volkswagen'".
She also added; "To mark the facelift of the Volkswagen brand, I created a piece that is inspired by the bold new colour palette and confidence of the brand. The main piece was painted over three days, then sections were cut away and made into unique standalone artworks – each piece distinctive but representing the artwork as a whole. Just like the people who join together to make up the people's brand. I'm genuinely excited about the opportunity to work with one of the world's most distinctive and respected automotive brands and to take part in this regional launch. I hope this piece shows that."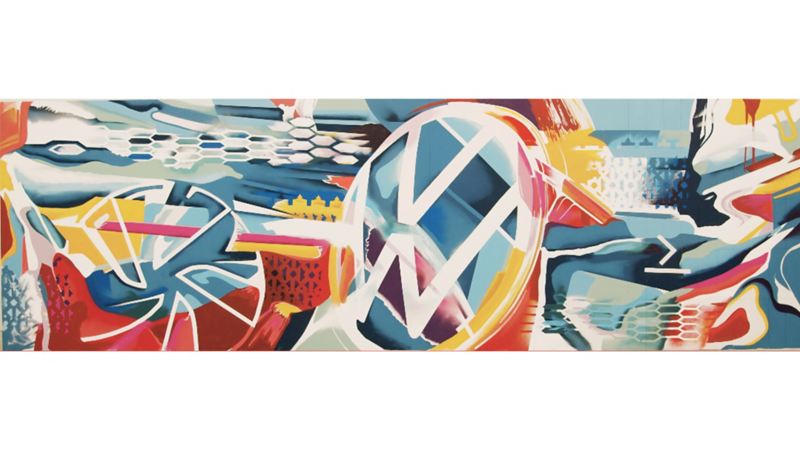 Victor Dalmau, Managing Director of Volkswagen Middle East, explained; "Moving forward, our region will see Volkswagen in a new light. We've developed a new brand design and logo that better reflects our values; putting people back into the driver's seat of our brand. With this new direction, we will be more human and inviting, placing authenticity and real people above all else. We are on a new journey with a new focus and this will be felt and seen in everything we do.
He added; "We are excited to officially launch the new Volkswagen brand across our region; and embarking on this project with Maddy is a clear example of how we want to communicate these values – in a vibrant, humanized and stimulating way. This moment marks the beginning of a new era and journey ahead."
The global rebrand campaign involves 171 global markets, 10,000 dealers and service partner facilities and 70,000 logo replacements. For the new brand design in the Middle East, 22 dealers and service facilities across 9 markets will move towards the new Volkswagen design.
Customers will enjoy a refreshed Volkswagen which promises exciting new models and a 360 customer focused experience which is more modern and more authentic. The logo is reduced to its essential elements allowing more flexible use for digital media, especially important in this digital-savvy Middle East region. The brand language will also be more personalized and individual, allowing customer communication and connectivity to be a key focus.