Volkswagen

Middle East
partners with Carpool
Karaoke Arabia
Dubai, United Arab Emirates
March 4, 2021 
Volkswagen

partners with Carpool Karaoke Arabia and Dubai TV for the third season of the show

The

Volkswagen

Touareg will be the highlighted vehicle used in every episode

A list of Arab Celebrities and well-known TV personalities and host Wissam Breidy will be driving around Dubai in the Touareg

The show began airing on the 23rd of February at 22:30 (UAE time) on Dubai TV
Volkswagen Middle East is excited to announce its latest partnership with Carpool Karaoke Arabia. The TV program is known to be very popular in the Middle East and North Africa region and is known to be a spin-off of James Corden's Carpool Karaoke from The Late Show on CBS. Carpool Karaoke Arabia will be using Volkswagen's Car, particularly the Touareg, to film the show with A-list Arab celebrities.
Carpool Karaoke Arabia is a great opportunity for Volkswagen Middle East to showcase its flagship Touareg in a program that focuses on people, but most importantly showcases the Volkswagen brand in a regional and relevant context.   
The concept of the show is to drive around with a famous celebrity on the popular streets of Dubai, while the cameras film the inside of the car and the host and guest share their success stories and are faced with extraordinary surprises and activities throughout the episode in a way that has never been seen before in the history of Arab media.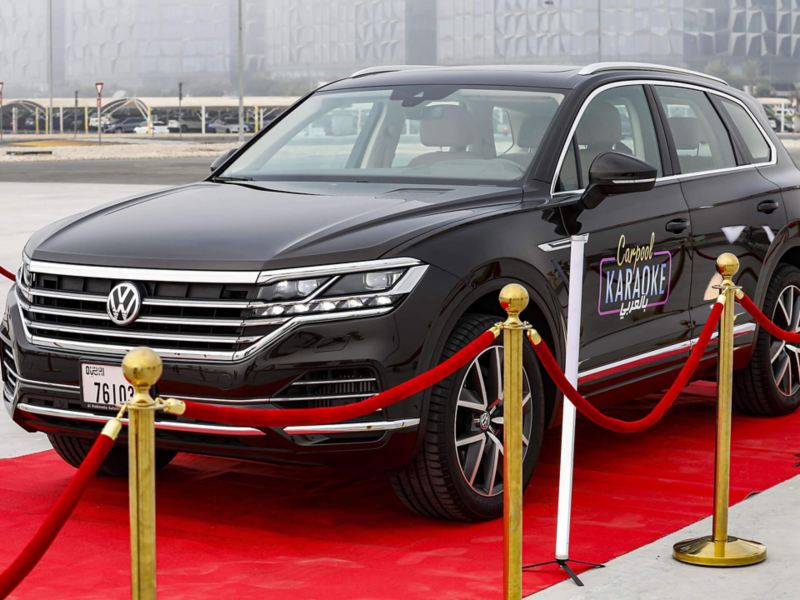 The program will consist of 11 episodes featuring well-known host and TV personality Wissam Breidy, alongside guests such as Ahlam, Ragheb Alama, Balqees, Nadine Njeim, and many more. Carpool Karaoke airs every Tuesday at 22:30 PM on Dubai TV and every Thursday on Dubai One at 22:00 PM, UAE timing.

Victor Dalmau, Managing Director of Volkswagen Middle East, said: "I am especially happy with this partnership as it perfectly fits with our brand regional strategy of being local, relevant and human. This collaboration with Dubai TV, Carpool Karaoke Arabia, Choueri Group, the host Wissam Breidy, and all the celebrities will be a one of a kind experience to engage in an entertaining way with our audiences, so we are proud of our Touareg being the star of the show"

Ahmed Saeed Al Mansouri, CEO of Radio and TV Sector at DMI said: "Dubai TV's partnership with Volkswagen Middle East is built on our eagerness to collaborate with various local, regional, and international organizations to exchange experiences and coordinate efforts that will help in realizing Dubai TV's vision of achieving the highest level of leadership in the sector, based on innovation and quality in line with the strategic goals of Dubai's government." He added: "The return of Carpool Karaoke Arabia to Dubai TV, after the huge success of the previous two seasons -both in viewership and the social media engagement across the various digital platforms, confirm the clear vision of Dubai TV that respects its Arab audience from around the world."

Carpool Karaoke Arabia is broadcasted on Dubai TV, Tuesdays at: 22:30 UAE time (18:30 GMT), Thursdays at 13:00, and Fridays at 09:00. With English subtitles available on Dubai One every Thursday at 22:00 UAE time. Viewers can also watch the new episodes online on the website (www.dmi.ae/dubaitv), through the Awan app and website (www.awaan.ae) and connect to its social networks (Facebook and Instagram /CarpoolKaraokeAr) and (Twitter /CarpoolKraokeAr), as well as  through the hashtag (#CarpoolKaraokeAr).