Volkswagen


addresses child safety,
benefits of timely travel and anxiety
on the road based on recent research 

United Arab Emirates,
5 September 2021 

The

Volkswagen

Safety Campaign is supported by a survey focusing on safety concerns that UAE drivers face

40% of parents said that their kids are not buckled up because they don't like being strapped in

84% of UAE motorists face anxiety or stress while on the road

82% of correspondents believe that they would drive more safely if they left for their destination 10 minutes earlier
Recent research commissioned by Volkswagen Middle East reveals that 40% of parents do not fasten their kids safely in the car because their kids do not like being strapped in; 84% of UAE motorists experience anxiety or stress when driving, while 82% recognise that they would drive more safely if they had left 10 minutes earlier. Volkswagen launches a Safety Campaign in partnership with RoadSafetyUAE, an advocate for responsible and safe driving in the UAE, to address three key findings based on this research – child safety, managing stress and anxiety on the road and journey preparation.
Child safety:
34% of correspondents said they do not have a child seat, while 40% said they do not fasten their kid's seat belt safely because their kids do not like being strapped in. 29% feel that they are a safe driver and therefore do not need to strap their child into a car seat.
As a family-focused brand, child safety is incredibly important to Volkswagen.  To help make child seats more fun for children and therefore encouraging its usage, Volkswagen has created a unique cuddly toy that attaches to the child's seat belt.
Motorists facing stress and anxiety on the road:
Over two thirds of respondents think that the high levels of anxiety and stress impact their driving; and this was more prominent with the female drivers and in the age group 35-44 years old. Only 16% of drivers stating they are never affected by anxiety or stress on the road.
Half the respondents articulated that listening to calming music, radio or podcasts helps overcoming anxiety. Additional measures mentioned included thinking about something uplifting, focusing on breathing techniques and engaging in conversations either on the phone or with passengers.
Based on this research, Volkswagen Middle East has partnered with Anghami, the leading music streaming platform in the GCC, to create a calming playlist to promote safer driving. Volkswagen will also host an exclusive webinar with Clinical Psychologist, Dr. Saliha Afridi at The LightHouse Arabia, focused on how drivers can manage their stress and anxiety for safer driving on the roads.
Dr. Saliha Afridi, PsyD. (US), Clinical Psychologist and Managing Director of The LightHouse Arabia commented: "Good emotional regulation skills and healthy mental health practices are fundamental for safe driving. Whether it's lingering feelings from a negative interaction or anger associated with something that happens on the road, having the ability to regulate your emotions, calm yourself down quickly, and not being emotionally reactive is essential for a safe drive."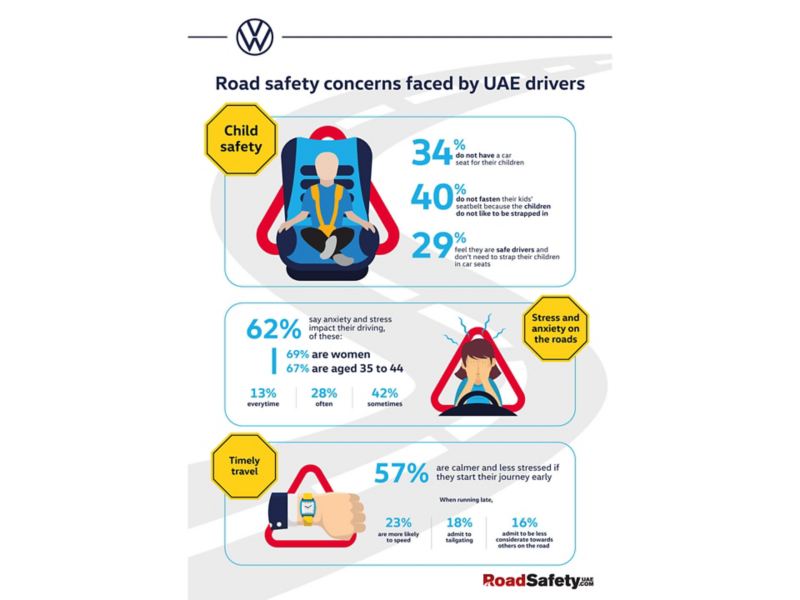 Leaving 10 minutes earlier
From the research, 23% of respondents said that they are more likely to speed when running late, while 18% admitting that they would tailgate. Overall, 57% recognised that that they would be calmer and drive less stressed if they were to leave a few minutes earlier for their destination.
Volkswagen aims to put this to the test with schools going back. Partnering with renowned influencers, Hattem Mattar and Ines Sebiane will challenge themselves to leave 10 minutes early for their school run and report back on how this impacted their journey and the valuable safety benefits to their followers and Volkswagen's audiences.
Victor Dalmau, Managing Director at Volkswagen Middle East adds: "For Volkswagen, safety is, and will always be, our top priority. Therefore we feel that, beyond producing cars with the latest technology on active and passive safety features, our responsibility is also to make drivers really aware of the importance of safe driving and helping them to achieve it. We have held already safety campaigns over the past years and we are now taking this further through our partnership with RoadSafetyUAE."
Thomas Edelmann, Founder and Managing Director of RoadSafetyUAE said: "When tackling any type of problem, you first need to be fully aware of it and then look at the measures needed to tackle it. Road safety is no different, and that's why with this cooperation with Volkswagen we want to raise awareness of its importance and show drivers options to improve it."
Volkswagen's Safety Campaign will launch with the school's opening on September 5th and is perfectly timed ahead of World Mental Health Day on October 10th.