Volkswagen

Middle East collaborates with Emirates Aviation University to provide students a unique hands-on learning experience
Volkswagen

Middle East collaborates with Emirates Aviation University to provide students a unique hands-on learning experience
October 4 2020
Dubai, United Arab Emirates
Experts from the

Volkswagen

brand will be providing insight and practical demonstrations on engine development for students to take into their own projects

Volkswagen

Middle East provides a Golf GTE for study and practical learning purposes 
Volkswagen Middle East and Emirates Aviation University (EAU), the education arm of the Emirates Group and the Middle East's leading educational institution for aeronautical engineering, aviation management, business management, and aviation safety and security studies team up to provide students with a unique hands-on opportunity to experience the inner workings of hybrid technology of the Volkswagen Golf GTE alongside providing students access to Volkswagen engineers  during technical workshop sessions.
Volkswagen Middle East and Emirates Aviation University will be collaborating to provide students with the opportunity to get hands-on experience at the University's engineering workshop facilities. Volkswagen Middle East will be offering the vehicle for the duration of ten months for research purposes, and to aid practical learning.
Examining the technology in the Volkswagen Golf GTE, alongside other technical parts from Volkswagen's range of current vehicles including; 1.4L engine with Active Cylinder Technology (ACT) system, four-cylinder engine cutaway, and gearbox cutaway. The students at Emirates Aviation University will be able to use the car to study and use the inner workings and machinery behind the hybrid engine in their research projects. The hands-on practical sessions and research provided will include the evolution of the Volkswagen engines from TSI engines, to hybrids, to the evolved electric engines.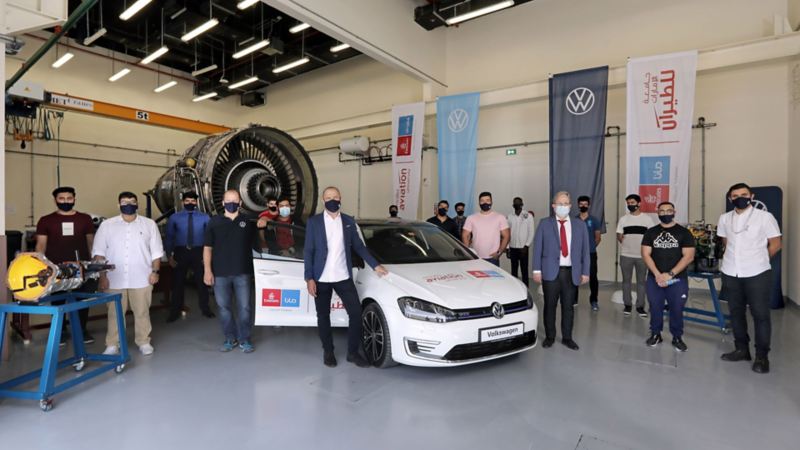 As part of Volkswagen's vision to "Move People Forward" in their lives, the partnership between Emirates Aviation University and Volkswagen Middle East will offer students the opportunity to nurture their skills and learn alongside skilled and qualified technicians who work on the brand's technical development from the Regional Head Office Training Centre.
"Our collaboration with Emirates Aviation University will be an advanced deep dive for students to understand the evolution of current technology and innovate for future technology to come," said Victor Dalmau, Managing Director of Volkswagen Middle East.
He added: "The UAE is home to some of the most talented students in the world, and as a region is extremely technically-advanced. These students are our region's future - so I'm very pleased to share Volkswagen's passion for the engineering industry with the students today. We are proud to work closely with Emirates Aviation University to support the development and education of a new generation who will help drive future growth in this industry."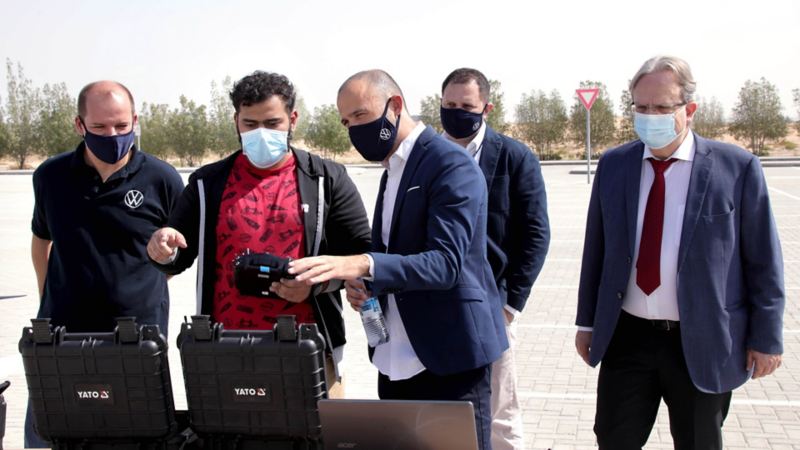 Dr Ahmad Al Ali, Vice-Chancellor of Emirates Aviation University, said: "We are delighted to collaborate with Volkswagen, one of the world's top automotive companies. This initiative provides our engineering students with a great opportunity to study hybrid engine technology up close, in a hands-on fashion. This is very much in line with the approach that we take at EAU, which is to combine the latest practical industry expertise within a world-class academic framework."
The collaboration between Volkswagen Middle East and Emirates Aviation University is set to bring forward the modern-day solutions of Volkswagen's current technology combined with the conceptualization and innovation of Emirates Aviation University's exceptional students.